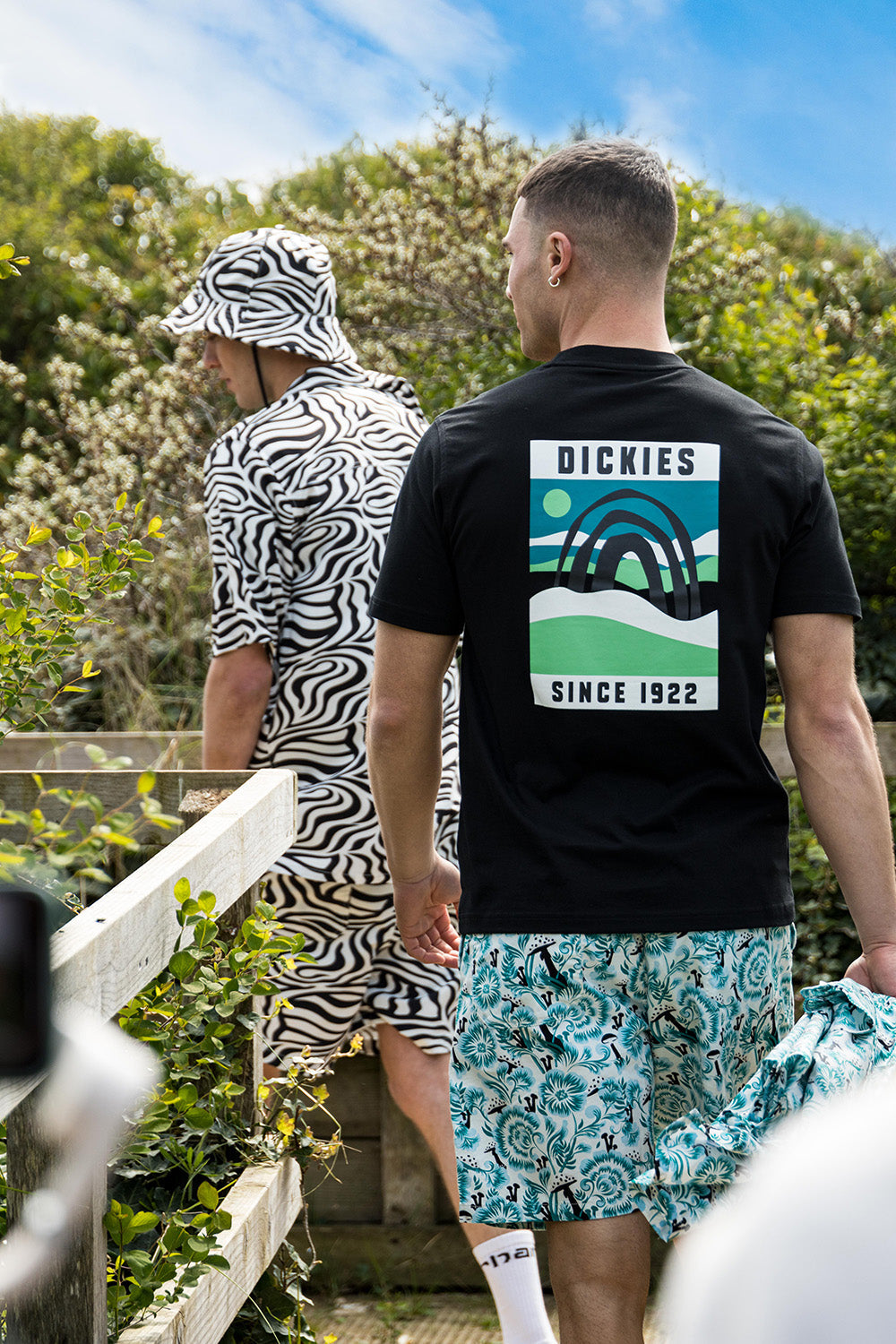 Brand in Focus: A Dickies SS23 round-up
Shannon Firby on Mon, May 22, 23
Dickies SS23 Collection
Dickies: On the job since 1922
Yep, you best believe we've got another flavoursome crock of Texan grit, quality and pride from work-wear wizards Dickies.
With over a century of experience crafting knee-quakingly good gear, this SS23 drop is nothing short of... well decent. 
Pulling up with a collection of loopback Sweats, relaxed fitting T-Shirts and military-inspired haulage that wouldn't look out of place in a 1970's counterculture film. Plus, some funky wares just in time for festival and holiday season. 




Tantalising Teal:
Here's an all-out pummel to the gut of Sweats, T-Shirts and other bits of clothing in a vibrant teal colourway that's a sidestep away from the workwear-esque neutral shades of decades gone by. But it works. 
Maybe it won't go down as well with the 'everything was better in the past' audience among us, but there are classic Dickies 874's and Overshirts for those guys. 






Slick Slacks:
For those of you in the market for a real quality pair of trousers, it's really no use looking anywhere other than Dickies. 
The infamous 874's have been doing the rounds since the 60's, so it's safe to assume that Dickies know their way around a good pair of pants. 
But if you already have the 874's in every colourway they sell, then try these Kerman Trousers on for size. 
Laid-back Shirting:
These ones are a perfect Dickies dichotomy. They're low-key by design, in proper soft fabrics that hang really comfortably... but in some real statement patterns. So you can be vibrant on the outside whilst remaining so effortlessly laid-back, you may as well be horizontal on a beach in the Balearics somewhere. 
Which brings us to the next point... 
They come with matching shorts... aren't they perfect for a holiday abroad or a festival weekend. 
Hang up your suit 'n' tie- it's funky shirt time. 


Backprints Galore:


You know we've got your back on these ones. We've been ridin' the backprint wave for some time now, so it's only right to dedicate a little section of this Dickies collection round up to them. 
In this modern day era you needn't be a shaggy hairs skater boy to revel in the bold and throughly compelling world of Dickies. 
What's Trending?
In the market for some other 'workwear' inspired bits? We've got Carhartt WIP and Stan Ray that go perfect with Dickies. Luckily for you, we're one step ahead of the game, (hard-workers over at EQVVS, eh?) and we put them all together in a little collection.
You may also like