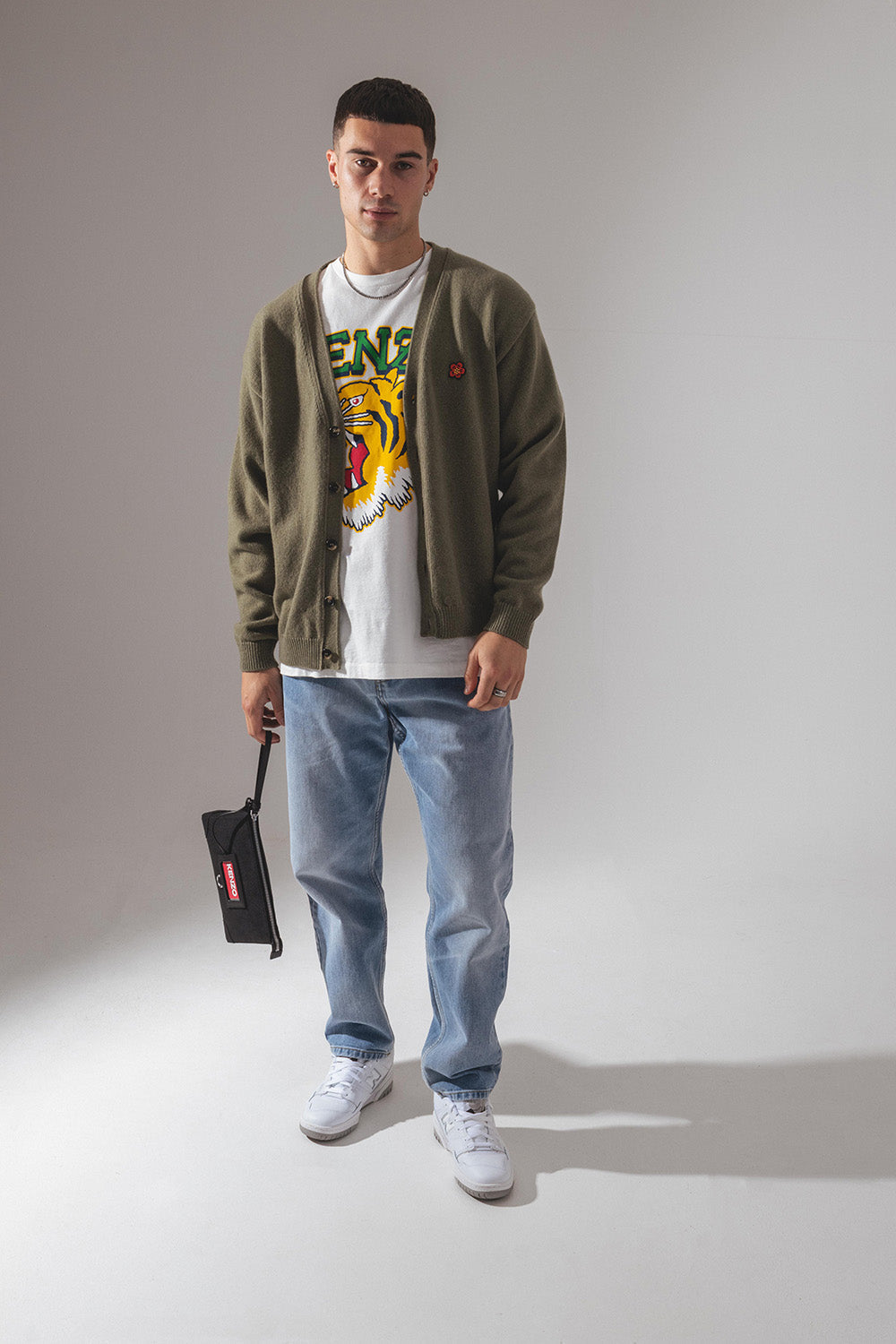 kenzo
Lookbook
outfit of the week
style news
EQVVS Lookbook #014
Shannon Firby on Thu, Aug 17, 23
EQVVS Lookbook #014 | The KENZO Cardigan Takeover
As ancient Anglo-Saxon folklore has it, if it rains on St. Swithin's Day (some day in the middle of July), it'll continue to rain for 40 days and 40 nights… Sounds familiar, doesn't it? 
So, as an ode to the tragically abysmal summer we've had so far for 2023, we've taken a shining to layering. With mood boards akin to that of your autumn-obsessed other half, we've had to park the shorts for a bit and dig out some light layering essential. The focal point of this lookbook outfit: The Cardigan. 
Not just that Taylor Swift song your girlfriend listens to when she's sad, cardigans and knitwear are having something of a resurgence this season, with brands shooting baggy sweater vests and button up cardigans into the streetwear stratosphere. 
KENZO is no exception, with a new brand image courtesy of designer Nigo, the KENZO streetwear takeover is here. 
A KENZO streetwear takeover

Boke Flower Crest Cardigan by KENZO
Seeing loads of Knitwear on Instagram and Pinterest lately? Yeah, that preppy college/varsity look has become something of an unofficial uniform across the street style network for the last year or so. It's almost a softer, even more casual version of an Overshirt. 
Featuring KENZO designer NIGO's addition to the KENZO design board, the boke flower has become the key motif of the brands aesthetic change-up. 
Varsity Jungle Tiger T-Shirt by KENZO  
Another Varsity inspired piece, the KENZO Tiger's had a makeover, with a vintage college sports inspired iconography right on the front. Hard to miss. 
Relaxed Fit Newel Jeans by Carhartt WIP
No use beating around the bush with these, they're denim jeans crafted with sturdy cotton and they're sort of a must in your wardrobe. The looser the better too, we're taking it back to the 90's and the jeans are coming with. 
And the rest: 
.
.
.
.
.
.
.
New Balance 550 Trainers:
These ones have been dubbed the style of the year in recent times, thanks to a whole host of celebrities that are proper keen on them. So if the chunky 90's runner style don;t cut it for you, try on these Basketball court silhouettes for size. 
Our suave model measures in at...
5ft'11
and he's wearing
Varsity Jungle Tiger T-Shirt : M
 Boke Flower Crest Cardigan : M 
Relaxed Fit Newel Jeans : 32R
You may also like