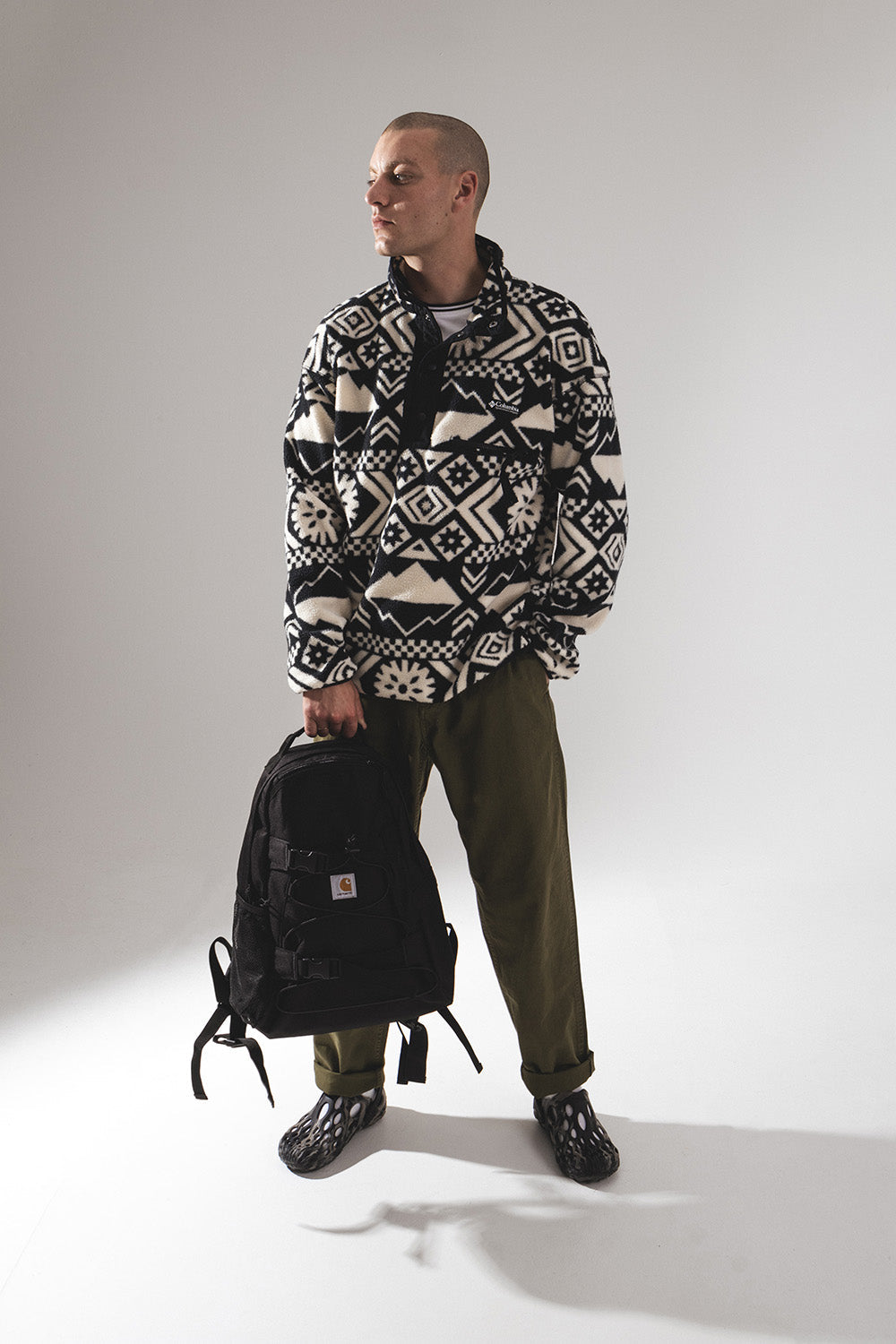 Columbia
Gorpcore
Gramicci
Lookbook
Streetwear
Style News
EQVVS Lookbook #015
Shannon Firby on Wed, Oct 18, 23
The Lookbook | #015 | Intrepid outdoor explorers unite
Gorpcore has been on the map a while now, with all compasses pointing due north to high tech meets streetwear innovations, that are all terrain, all day. But, if you're yet to get in on the hiking action, then let this 'fit in our lookbook be inspiration for you.
Coined Gorpcore as a play on the phrase 'Good Ol' Raisins and Peanuts', you know, the trail mix carried around in cargo pockets by the crunchy, granola people who go on long hikes on the weekends, the trend is all about blending utilitarian, functional, outdoor-inspired clothing with a streetwear edge. 
So for this week's lookbook outfit, we've got the trimmings of an outfit that's got camping trip in the Dales written all over it. 
High tech camping aficionados unite
Original Freedom Oval T-Shirt by Gramicci
A crackin' base layer for your outdoor jaunts, Gramicci have an entire collection of T-Shirts with some kind of nod to get outside, whether at the summit of a mountain somewhere, or just to the cornershop for milk. 
Helvetia Half Snap Fleece by Columbia  
Combining two essential outdoor elements, fleecing and quarter zip fastenings, this fleece by Columbia has all of that, plus a statement pattern to make sure you stand out. Gone are the days of fleeces being solely for garden centre employees and your nan and grandad on their coastal holiday. Turns out they serve a great purpose to the hiking fanatics among us on account of them being pretty lightweight but really warm. 
Relaxed Fit G Pant by Gramicci
The original pant that paved the way for climbers, founded by Mike Graham way back in the 70's in Yosemite. Psychedelic experiences not included, the G Pants history is pretty impressive, and even now they're souped up with all the original trimmings that make them a great addition to your outdoor outfit repertoire. 
And the rest: 
.
.
.
.
.
.
.
Merrel Hydro Moc Shoes:
Wouldn't recommend climbing in these ones, they're more of a nod toward the streetwear side of the trend. Purely aesthetic at this point, these ones are more for your 5 minute walk to One Stop and not Mount Snowdon approved. 
Backpack: 
Easy carrying for your compass, pocket knife, matches, snacks you know, all that stuff you need to survive in nature. 
Our backpacking model measures in at...
Model wears: Medium
Model Height: 6ft1/185.4cm
You may also like