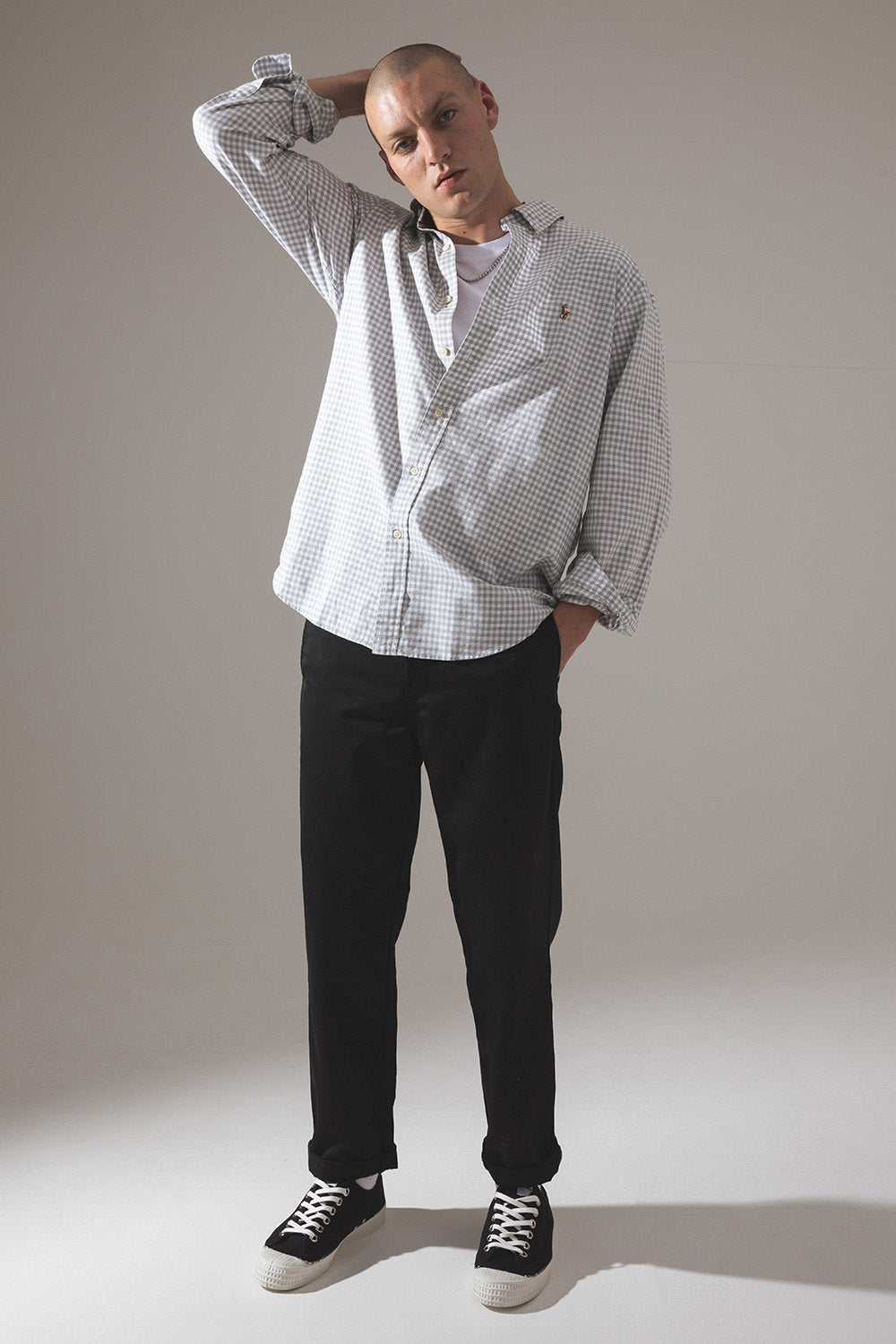 Carhartt WIP
outfit of the week
Polo Ralph Lauren
EQVVS Lookbook #013
Shannon Firby on Thu, Jul 13, 23
EQVVS Lookbook #013 | Casual Tailoring with Polo Ralph Lauren
We've been keeping tabs on what kinda wares people are cutting about in on the streets this summer and our stylists mood board is starting to look like Charlie Day getting Pepe Silvia's mail. So, in the interest of putting together some coherent utterings on another lookbook for you… we went with some sumptuous shirting from none other than Mr. New York City himself, Ralph Lauren. 
So this one's the kind of outfit that'll make you feel like you're just casually cruising down the street, with a coffee and a pastry, hopping on and off public transport on the way to work with a really good playlist on (EQVVS HQ spotify link here). 
In short, this is pinterest material for smart/casual work outfits. 
Inner city jaunt approved
Lightweight Gingham Shirt by Polo Ralph Lauren
A premium approach to an otherwise cafe tablecloth-like pattern, Polo Ralph Lauren's masters in top quality shirting has stuck this fine piece on the menu board (no pun intended). We sized it up a notch, so he's in a Large, which gives the shirt a bit of extra looseness around the torso for maximum airability during the muggy summer months. Finishing touches include rolled sleeves and four buttons undone, which feels effortlessly cool, like you didn't even try (optional, but recommended). 
Classic Fit Loungewear T-Shirt by Polo Ralph Lauren 
A base layer, only so you can pop another button down on the shirt and not be bearing full chest like a Mafia boss.  
Master Pant by Carhartt WIP
A crackin' alternative for when your Dickies 874's are in the wash, these Master Pants by Carhartt WIP have all the flavour of a crackin' pair of smarter trousers, without the suit and tie agenda. 
Tailoring has taken on a whole new lease of life this season and more casual approaches to smarter silhouettes have taken the spotlight. So, for when jeans and cargos don't fit the bill, a 'pant' like these'll do very nicely.
And the rest: 
.
.
.
.
.
.
.
Star Master by Novesta:
Slovakian footwear aficionados, these canvas and rubber concoctions have been the talk of the town among the EQVVS folk, proper good for summer ramblings to and from the office.  
Heart Socks by Carhartt WIP 
We're quite big fans of a good quality ribbed sport sock, and these ones have a nice big heart on them. Some people wear their heart on their sleeves, some people wear them on their feet. Those people don't have foot phobias. 
Our suave model measures in at...
6ft/182.88cm
and he's wearing
Lightweight Gingham Oxford Shirt : L 
Loungewear T-Shirt : S
Master Pants : 32R
The Gallery
You may also like