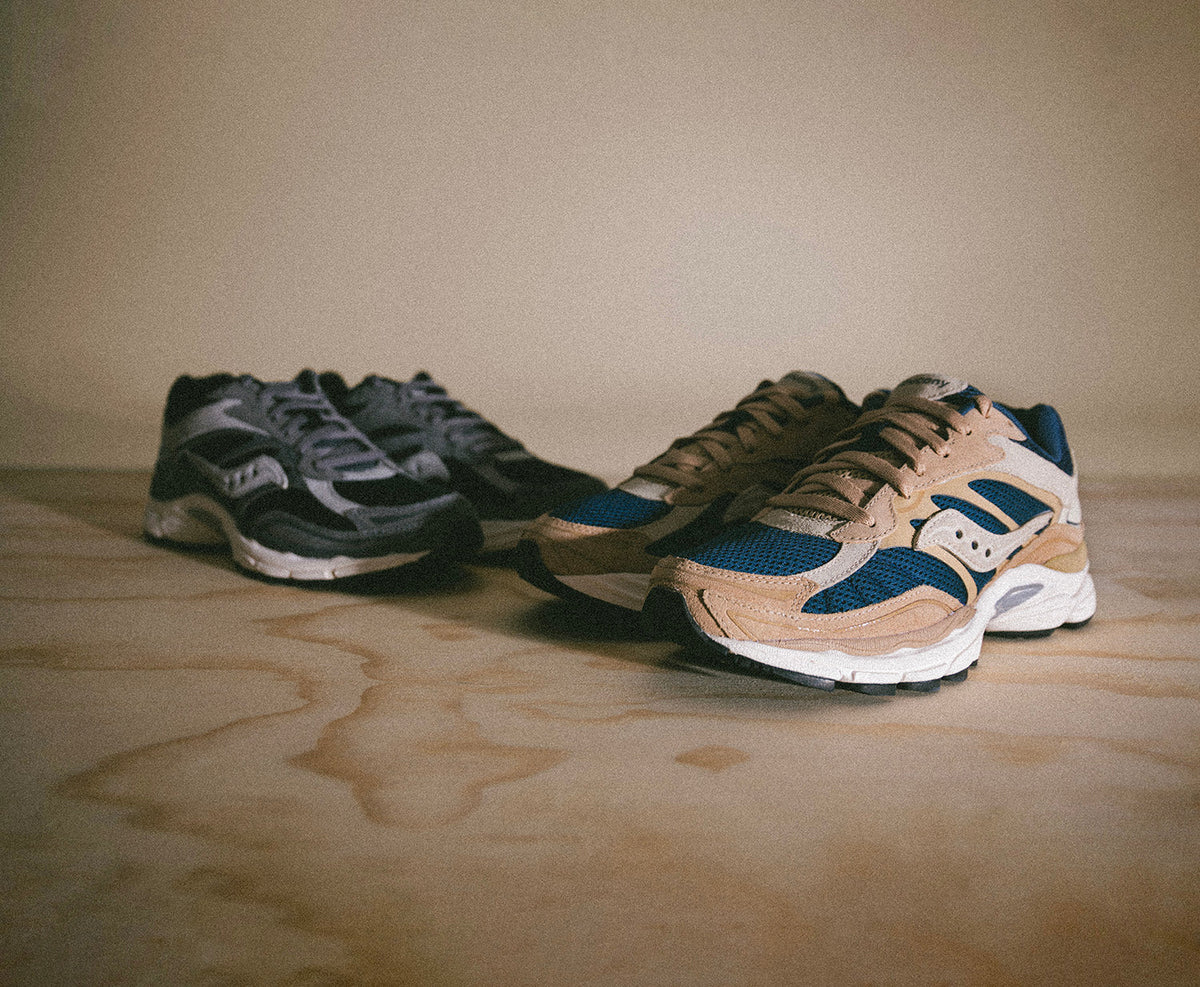 Footwear
Saucony
Sneakers
Trainers
New Brand Alert: Saucony | October 2023
Shannon Firby on Fri, Sep 08, 23
New at EQVVS | Saucony Footwear
Saucony Footwear | 1898 - Now
Footwear connoisseurs Saucony (pronounced Sock-a-knee) was founded back in 1898 on the banks of Saucony Creek in Kutztown Pennsylvania. 
With a pretty impressive foray into the world of footwear, Saucony started off with a collection of running trabs for the sporter folk among us, before souping up a lifestyle range that perfectly blends their top-tier knowledge on performance and technological innovations with a pair of kicks that look proper good. 
This season features a brand new launch using their trademarked Pro Grid innovation, with the Pro Grimi Omni 9 Sneakers. Reworked and remastered from a highly coveted silhouette from back in the 2010's. 
We've got our hands on 4 colourways of the Omni 9's, so for those of you itching for a new pair of kicks for your rotation. These ones are good, soul to sole. 
What's on the agenda?
Pro Grid Omni 9 Sneakers
Stepping right out of 2010, as a reissue of the brands iconic style, the Pro Grid Omni 9 Sneakers by Saucony are available in this Beige/Blue colourway for AW23. With a throwback silhouette featuring mesh uppers and iconic ProGrid technology in the sole unit for a proper comfortable and stabilised stride, these kicks are definitely the retro style you'll want in your footwear rotation this season.
Shadow Sneakers
Introducing the Shadow 6000 Cappuccino Sneakers in 200 Brown/White by Saucony, a style inspired by the 1991's best high-milage running shoe, reworked and reinvented. Saucony help keep the momentum going beyond the morning coffee run, thanks to the cushioned support system and shock-absorbing mid-sole for added comfort. Constructed with lush pigskin suede with unbuckle details, and textured leather trims.
You may also like